If it wasn't for this school, I would be nowhere.
Student
The Hechinger Report
*
Who also hath made us able ministers of the new testament; not of the letter, but of the spirit: for the letter killeth, but the spirit giveth life.
CORINTHIANS 3: 6
KJV Bible
*
The letter
of Science plentifully reaches humanity to-day,
but its spirit comes only in small degrees.
The vital part, the heart and soul of Christian Science, is Love.
Without this, the letter is but the dead body of Science, — pulseless, cold, inanimate.
Mary Baker Eddy
*
Is my branch church welcoming the Prodigal Home?
People are looking for a community that will support them in their journey.
Some people are leaving and going to other denominations because they not finding support when facing a personal challenge.
  Suzanne Riedel – Clerk of The Mother Church
(Annual Meeting of The Mother Church, 2016)
*
People are leaving the CS churches because they can't live up to all that Truth.
[Flipflop]
Suzanne Riedel – Clerk of The Mother Church
(Annual Meeting of The Mother Church, 2017)
*
Our branch recently closed because we focused on us and not on our community.
We are looking for fellowship at our branch church which is difficult to find.
I stopped regularly attending my branch church and not one person ever checked on me or asked why.
Students of CS
Midwest Church Alive, 2014
Chicago
*
What if  "church" could learn from the lessons and truly reflect truth and love for ALL mankind.  Perhaps we could fill them all up again.  They were never designed to be a country club with exclusivity and separation. 
Why was there so little diversity at the 2017 Annual Meeting of TMC?
Thank you CSMonitor Equal Ed for this story as it is making a difference and in a very good way.
I pray people are listening.
The best ideas from last-chance high schools are reforming American education
 .
Published on Jul 5, 2017
"If it wasn't for this school, I would be nowhere."
Alternative schools for at-risk students – the ones who have been expelled, have dropped out, or just can't make it in a regular high school – used to operate at the margins. But now, educational experiments started in last-chance high schools are transforming mainstream schools. In this video, step inside a school for lost kids in Boston that is pioneering what's next for American education.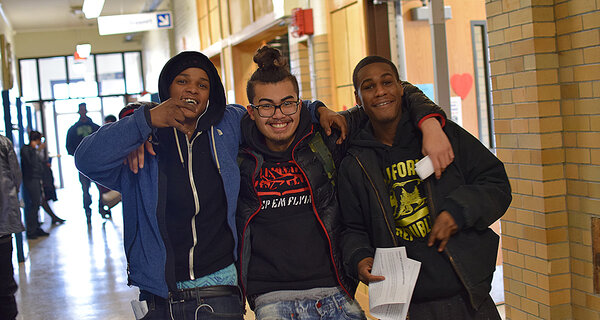 'Last Chance' schools prove to be best chance for struggling students
Alternative high schools, such as one in Boston, offer lessons in how to reach students who might otherwise drop out.
Natalie Gross
The Hechinger Report
"This school, they just pick up your spirit," Burgos says. "They took out all the negativity out of me when I felt like I wanted to give up half the time."
While BDEA's approach to education may once have been a radical departure from the norm, educators say it's gaining in popularity and becoming a role model for others. For one, its strategies work: According to school administrators, 65 percent of its students graduate from BDEA or get a general equivalency degree (GED), 70 percent of its graduates go on to college, and the school has one of the lowest suspension rates in Massachusetts, despite several gang affiliations among its students.
Self-paced learning
According to a National Center for Education Statistics report, children with behavioral problems are the most common target group for alternative school programs, which served more than 575,000 students in 2013 (the most recent year for which data is available). The schools also serve students who have academic difficulties, have dropped out of high school, or are at risk of doing so for other reasons, including pregnancy, homelessness, and abuse.
Of the 405 students at BDEA, who range in age from 16 to 23, almost all are economically disadvantaged. Half self-identify as having a mental illness and about a third have experienced significant trauma during childhood, according to information provided by the school.
Relationships make the difference
Alyson Sullivan is a community field coordinator at BDEA whose role in the Student Support office involves more than academic counseling and discipline. On one recent Monday morning, she counseled one student who was in an abusive relationship and advised another whose family was in danger of losing their house after his father's recent death.
"If you talk to our students, nine times out of 10 if you ask them, 'Well, why was it different here? Why did you make it here and you couldn't at your old school?', they say the relationships they have with staff," says Ms. Sullivan. "Just really having those genuine and authentic relationships with our students makes us different."
Recent graduate Masiah Jones can attest to that. While attending her old high school, she was working 50 hours a week at a pizza shop to help provide for her family. Her grades slipped, but teachers didn't seem to understand why, she says, and sometimes she felt judged.
A few months before Ms. Jones graduated from BDEA last December, her mother could no longer afford to let her live at home. So some BDEA staff members took turns letting her stay with them.
"I wouldn't have had that anywhere else," the teen explains. "I wouldn't expect a teacher to do that for me."
Burgos, too, has relied on staff support outside of the classroom. Though she was once too embarrassed to tell her teachers and advisers that she was living in a shelter, she's now enlisted their help in her search for permanent housing.
An approach focused on the needs of the "whole child" and on students' social and emotional development is a hallmark of alternative education, says Ephraim Weisstein, executive director of the nonprofit Diploma Plus, a network of competency-based alternative schools.
"They have to have it," he said. "Otherwise there would be no way that this would work given the students who come to them and their needs."
This approach, too, has been gaining traction in mainstream education. School districts from Anchorage to Atlanta have placed renewed attention on socio-emotional learning, with Boston Public Schools creating a new administrative position dedicated to it in 2015.
'Restoring' not suspending
BDEA favors conflict mediation over zero-tolerance policies as a way to prepare young people to handle themselves in school and beyond. When students disagree, staff guide them through mediated conversations to address their issues. If a problem escalates in a public place and disrupts learning, then the students must apologize to their peers during a school assembly. Suspensions are reserved for violence or bringing weapons to school.
Studies have shown that this "restorative justice" approach, as this method of discipline is often called, can have two benefits. It often decreases suspensions and expulsions, which are prone to racial disparities. And, on the flip side, it can improve school climate and even increase graduation rates. Such results have led more schools to reject zero tolerance in favor of restorative justice, and models like BDEA's have proven it can work in schools.
https://www.csmonitor.com/EqualEd/2017/0705/Last-Chance-schools-prove-to-be-best-chance-for-struggling-students