I was asked recently if you need to experience adversity to learn or to understand and help others who are going through the same thing.
Perhaps?
Why is it that most of the people who reached out and helped survivors of Hurricane Katrina were hurricane survivors themselves?
I remember my first high risk call as a crisis intervention and suicide prevention counselor for LGBT youth.  I deescalated a call from a 14 year old youth who felt unloved by his family.  But he believed in and loved God.  Thus I empowered him to understand that he was loved unconditionally by God since he already had God in his life.  He stopped fighting me after this conclusion.
Faith and spirituality is an unobstructed path to hope.  Why hope?  Because hope is the major weapon against suicide.
I then asked for his permission to pray for him.  He stated he wanted me to pray for him because I wanted to not because he wanted me to Pray.  He also stated nobody had ever prayed for him as far as he knew.
After receiving his permission I stayed with him in prayer for three nights as we were not given the same caller ever again.
This was the only call which I broke down crying after bringing the call to a conclusion.
I still remember the stillness in my office and the question which came to me from the universe and asked if I could go back and erase all the pain that made me made me effective in reaching this child would I do it.
NO!  The past is what shaped and humbled me to be an effective counselor.  His last words were: "You are authentic".
I had no further contact from the caller who I helped.  But I felt the weight lift before bringing the call to a conclusion.
Why is this important?
I remember the night Robin Williams died and a church member told me Robin Williams was a coward for taking his life.  Thus I stood up and gave a Wednesday Night Testimony that perhaps his pain exceeded his capacity to cope.   But divine Love is with him right here, right now for eternity.
Robin's mother was a student of Christian Science.
So you decide.  Would that church member have been effective in deesculating the high risk call?
Perhaps if he had been touched by suicide he wouldn't have said that.
I also remember a woman who reached out to me  in my previous career in mental health.  She stated too many youth are falling through the cracks into suicide.  Perhaps it takes a special person to understand and reach them?
Perhaps?
Robin Williams's unexpected death  Monday brings to an end the comedian's long battle with cocaine and alcohol addiction.
Williams checked himself into a renewal center just a few weeks ago, but his battle with addiction dated back more than 30 years.
More specifically, Williams told Parade in 2013 of the moment that led him to drink again: "One day I walked into a store and saw a little bottle of Jack Daniel's. And then that voice — I call it the 'lower power' — goes, 'Hey. Just a taste. Just one.' I drank it, and there was that brief moment of 'Oh, I'm okay!' But it escalated so quickly. Within a week I was buying so many bottles I sounded like a wind chime walking down the street.
https://www.yahoo.com/movies/robin-williams-long-struggle-with-addiction-94495982212.html
Robin Williams – Speech From "Jack" RIP
Published on Aug 12, 2014
Robin Williams character's valedictorian speech at the end of his movie "Jack". Robin passed away August 11,2014. He will be greatly missed.
10 of Robin Williams's best lines
August 12, 2014
The Christian Science Monitor
REUTERS/Lucas Jackson/Files
Robin Williams was born in 1951. He described himself as a shy child until he became involved in his high school's drama department, where he soon proved himself to be a talented actor. In 1973, he was one of only 20 freshman students to be accepted into the prestigious Juilliard School for drama. During his career, Williams starred in everything from slapstick comedy to drama, taking on leading roles in iconic films such as "The Dead Poets Society," "Mrs. Doubtfire," and "Hook." He soon earned a reputation as one of the greatest comedians of his generation, known for the wide variety of characters he played in his films and his stand-up comedy.
Williams won awards for both his dramatic and comedic acting, including multiple Golden Globes, Emmy Awards, and an Oscar for Best Supporting Actor in "Good Will Hunting." A great improvisational comedian, Williams made up many of his best and funniest lines on the spot, even in films that were fully scripted.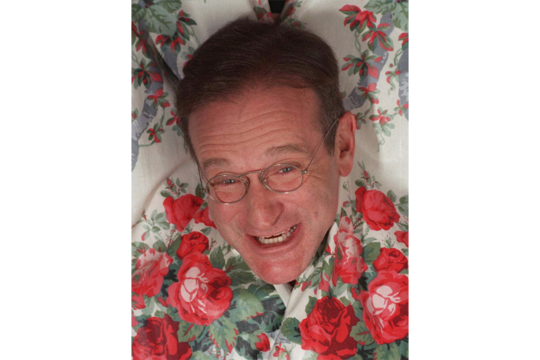 1.  Talent
"You're only given a little spark of madness, and if you lose that, you're nothing."
– from "A Night at the Roxy" comedy show (1978)
2. Seize the day
"Carpe diem. Seize the day, boys. Make your lives extraordinary."
– from "Dead Poets Society" as John Keating (1989)
3. Loss
"You don't know about real loss because it only occurs when you've loved something more than you love yourself. I doubt you've ever dared to love anybody that much."
– from "Good Will Hunting" as Sean Maguire (1997)
5. Happiness
"Jack, Maggie, all you have to do is think one happy thought, and you'll fly like me."
– from "Hook" as Peter Pan (1991)
8. On music
"Good morning, Vietnam! Hey, this is not a test. This is rock and roll. Time to rock it from the delta to the DMZ!"
– from "Good Morning Vietnam" as Armed Forces Radio DJ Adrian Cronauer (1987)
9. Poetry
"But poetry, beauty, romance, love, these are what we stay alive for. To quote from Whitman, 'O me! O life!… of the questions of these recurring; of the endless trains of the faithless… of cities filled with the foolish; what good amid these, O me, O life?' Answer. That you are here – that life exists, and identity; that the powerful play goes on and you may contribute a verse. That the powerful play goes on and you may contribute a verse. What will your verse be?"
– from "Dead Poets Society" as John Keating (1989)
10. On finishing an act
"You have been a fabulous audience! Tell you what, you're the best audience in the whole world. Take care of yourselves! Good night, Alice! Good night, Agrabah! Adios, amigos!"
– from "Aladdin" as the Genie (1992)
https://www.csmonitor.com/The-Culture/Movies/2014/0812/10-of-Robin-Williams-s-best-lines/Talent